I found this colorful room on
Houzz
and thought it would be fun to break it down piece by piece and shop the items to see if I could achieve the overall look for a sensible price.
I read through the comments to find out more about the furniture and decor in the room. According to the comments, the couch came from
Room & Board
. The
Sabine Sofa
at Room & Board was the closest I could find and it might be the right one.
Right now, the price at Room & Board is $2099.00 for a 90" sofa, so I decided to see if I could find something similar at a better price. My search led me to
http://www.lexmod.com
.
The Florence Style Sofa pictured above has a similar feel to the one in the original picture and right now it costs $899.00. This one is 90.5" wide. What a great find! This made me excited to do some more shopping.
The next thing I wanted to find was the green X-bench. I looked through the comments on
Houzz
and found that it was purchased from
Jonathan Adler
. Johnathan Adler has a lot of lovely X-benches in all sorts of fabrics. The one that I thought looked the closest to the one in the inspirational room was the X-bench in oslo parrot which is priced at $645.00. The color of the one in the inspiration room was Ireland Avacodo. I couldn't find that color on their site, so I went with the Oslo Parrot.
After that great find, I decided to move on to the cocktail table which was also from
Jonathan Adler
. This table looks a lot cooler close up than it does in the Inspirational photo. It has a crocodile pattern stamped in the leather. Check it out.
How cool is that table?! It costs $1,295.00. I wasn't able to track down another crocodile table so I looked for a black table with the same overall shape and came across this one from
Crate & Barrell
. This one doesn't have the crocodile, but it does have a design in the wood.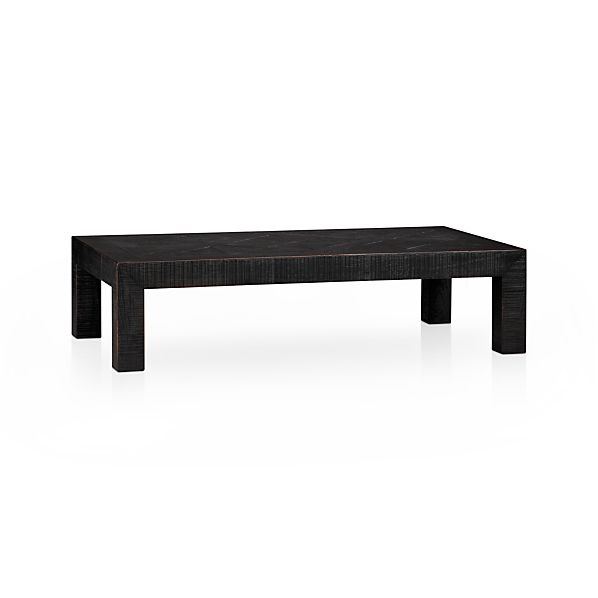 Here is another picture to show off the design.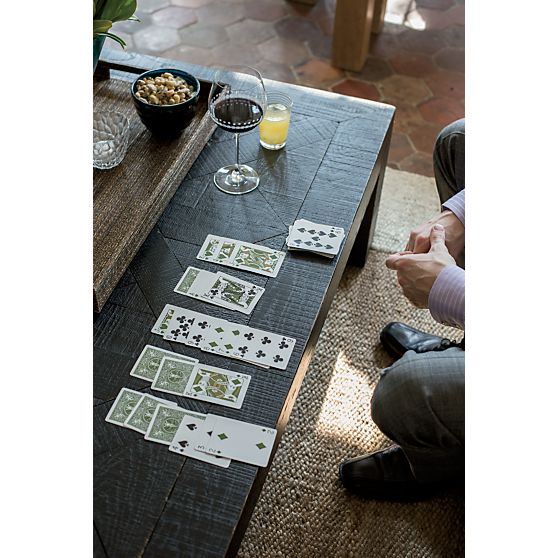 This Bordeaux Coffee Table from
Crate & Barrell
costs $899.00.
Moving on to lighting, the bubbles glass chandelier in the inspirational photo can be found at
http://www.claytongrayhome.com/item/Bubbles-Glass-Chandelier---Chrome/1721/p7c56
for $1425.00.
This light is beautiful and it was hard to find a product that was similar at a lower price. Here is what I came up with.
Here is my first option coming in at $399.99.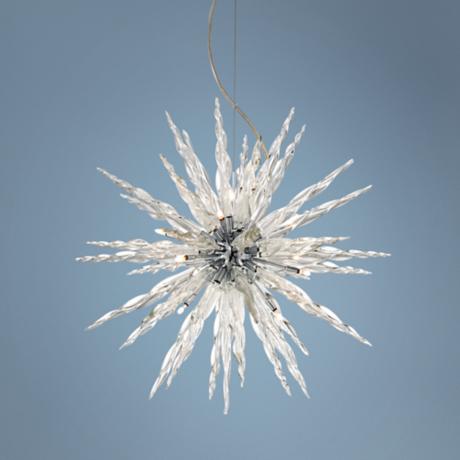 You can find this one
here
. It is similar only in the fact that the size is similar and it has the sharp, pointy look that the bubbles chandelier has.
The next light has more bubbles in it.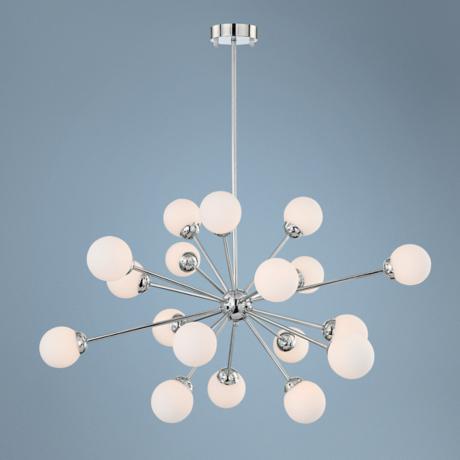 This lamp comes in at $399.99. It has the bubbles, but in my opinion, it just doesn't have the same feel as the light in the inspirational photo. However it is about $1000 less. You can check it out
here
.
This last option doesn't have bubbles in it, but it is the right size and it's pretty cool.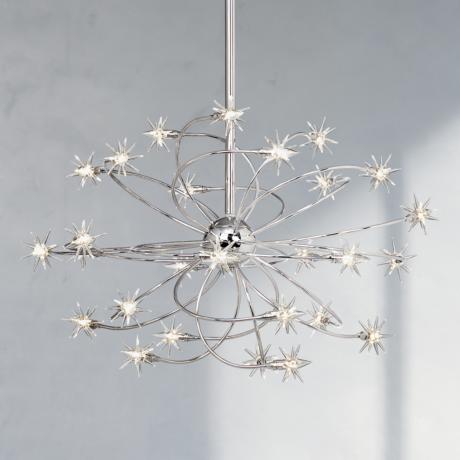 While this light is very different from the inspirational light, I think it could give a similar feel to a room. What do you think. Oh, and this one is priced at 449.99. You can find it
here
.
On to pillows. According to the comments section on Houzz, the pillows in the picture came from Room & Board. I couldn't find the exact pillows but I did find this
one
.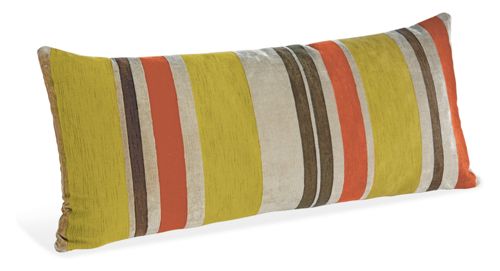 I wish this one had more grey in it. It costs $149.00.
My alternate pillow does have more grey in it for $39.99 you can find it at
overstock.com
. However, it is about 10" shorter than the pillow in the inspirational picture.
Room and Board has a Velvet Tangerine Pillow and a Velvet Olive Pillow. Each one costs $99.00.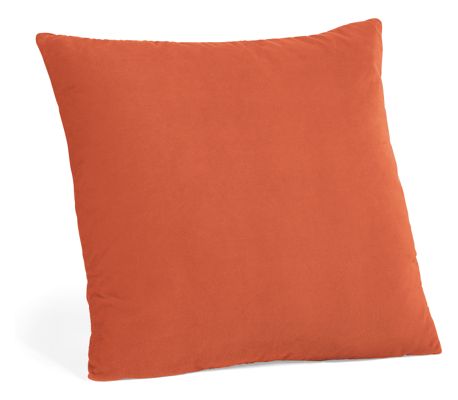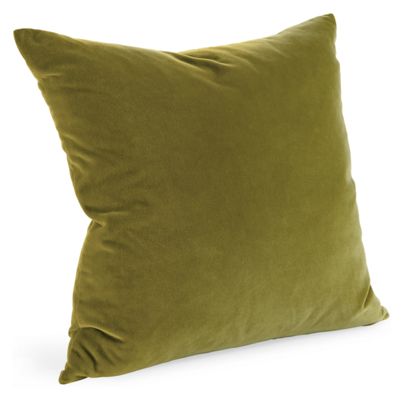 The olive one looks quite a bit darker than the pillow used in the picture. So I went back to Overstock.com to see what they had and I found
this tangerine pillow
, or should I say set of pillows. This set costs $35.89.
Here are some
green pillows
that look closer to the color of the pillows in the inspiration photo.
This set is also from www.overstock.com and they cost $37.99 for the pair.
The two floral accent pillows in the picture were harder to track down. I didn't see any on Room & Board's website. So I found some on Overstock that had a similar color palate.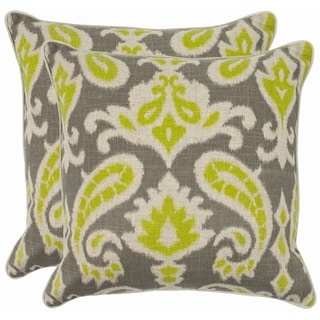 This set of 2 costs $46.49.
My last breakdown for this room is the rug. The rug came from
Room & Board
. I can't be sure of the size, but my best guess based on the picture is the 8'x9'9 rug which costs $2,299.00.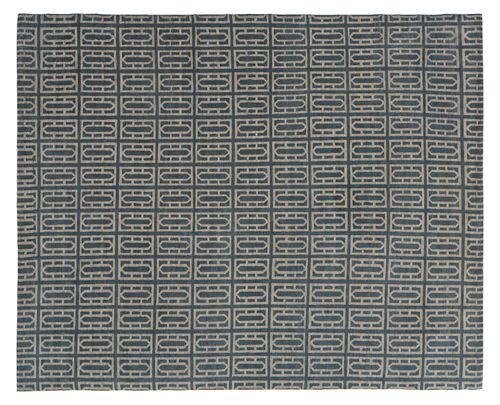 Another option would be to purchase a patterned carpet and have it bound. Having a rug bound normally costs around $1.25 an lineal foot. The pattern below costs $37.96 per square yard. So my guess to make this carpet into a rug would be $404.90 for the 12x8 and then $60 for binding (cutting charge included) Which would bring the rug out to around $465.00. This pattern, Stanton/Royal Dutch - Miro, can be found at
ProSource
. ProSource is a members only showroom, but you can purchase it through my membership, just tell the ProSource that you call that you are coming in under Trending Designs out of ProSource of Roanoke or you can contact the Roanoke showroom directly by calling 540-366-7737.
This design is not the same as the inspiration picture, but it is very close and priced a lot better.
So there you have it, my first design broken down and shopped piece by piece. Here is an overview of the pricing. Please keep in mind that some of the items are not exactly those seen in the picture.
Designer Room:
Sabine Sofa: $2099
Jonathan Adler X-Bench: $645
Jonathan Adler Crocodile Table: $1295
Bubbles Glass Chandelier: $1425
Room & Board Striped Pillow $149
Room & Board Tangerine Pillow $99
Room & Board Olive Pillow x 2: $198
Floral Pillow (couldn't find designers pillow, used Overstock pillows) set of 2 $46.49
Room & Board Rug $2299
Total: $8255.49
Alternative Decor:
Florence Style Sofa: $899
Ballard Designs X-Bench: $261
Crate & Barrell Cocktail Table: $899
Icicle Pendant Light: $399.99
Overstock Striped Pillow: $39.99
Overstock Tangerine Pillow Set (2): $35.89
Overstock Lime Pillow Set (2): $37.99
Overstock Pattern Pillow Set (2): $46.49
ProSource Miro bound Rug: $465
Total: $3084.35
Total Savings: $5171.14
So in my opinion, the designer space is lovely and I would probably chose some of her products over the alternatives, but look at what you can save by shopping around (or just checking out my blog). Do a mix of the two and you will have a lovely trendy room design at a reasonable price.
Was this helpful? Did I help get this design into your budget? Do you have another room that you would like for me to break down for you?